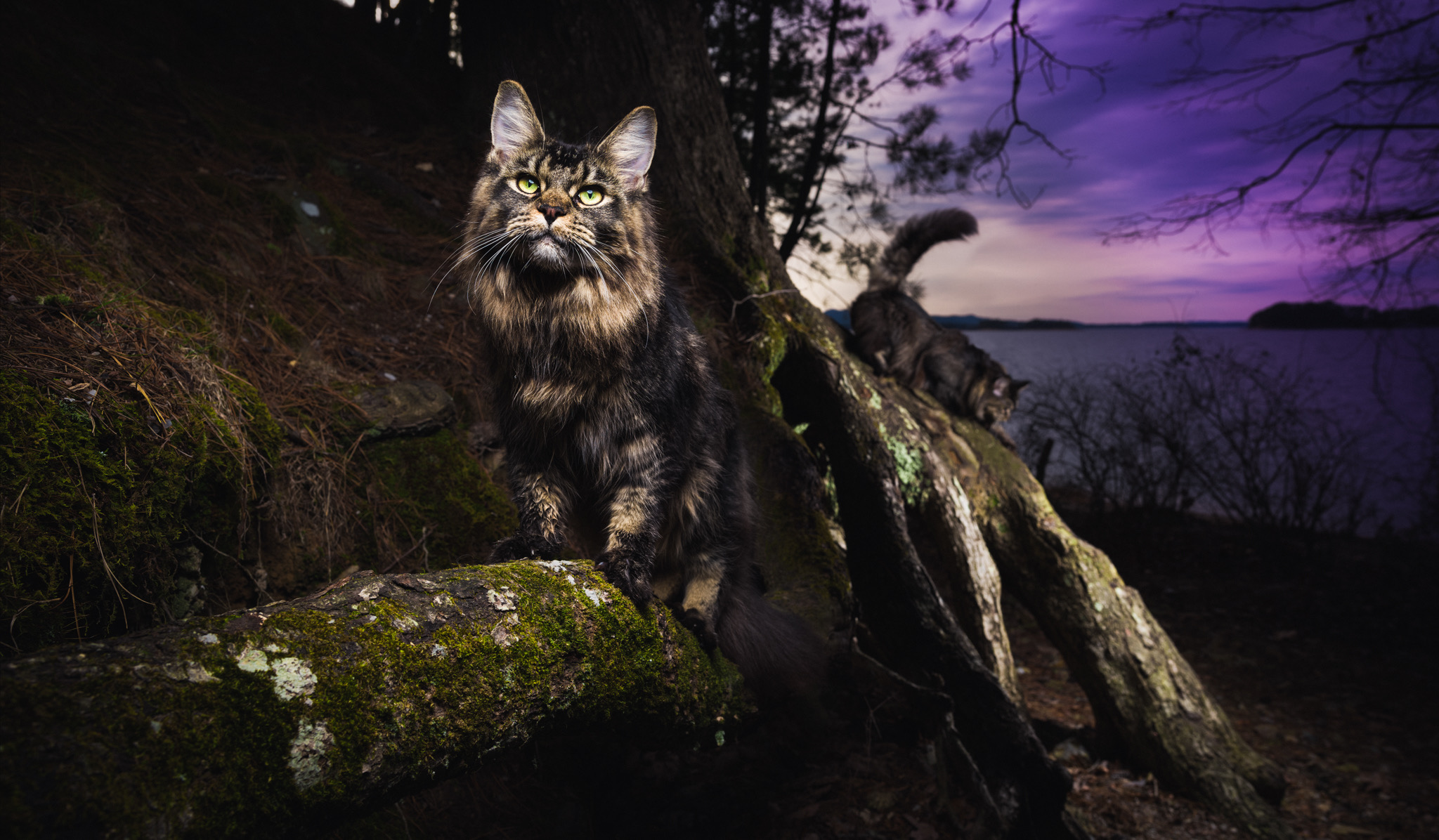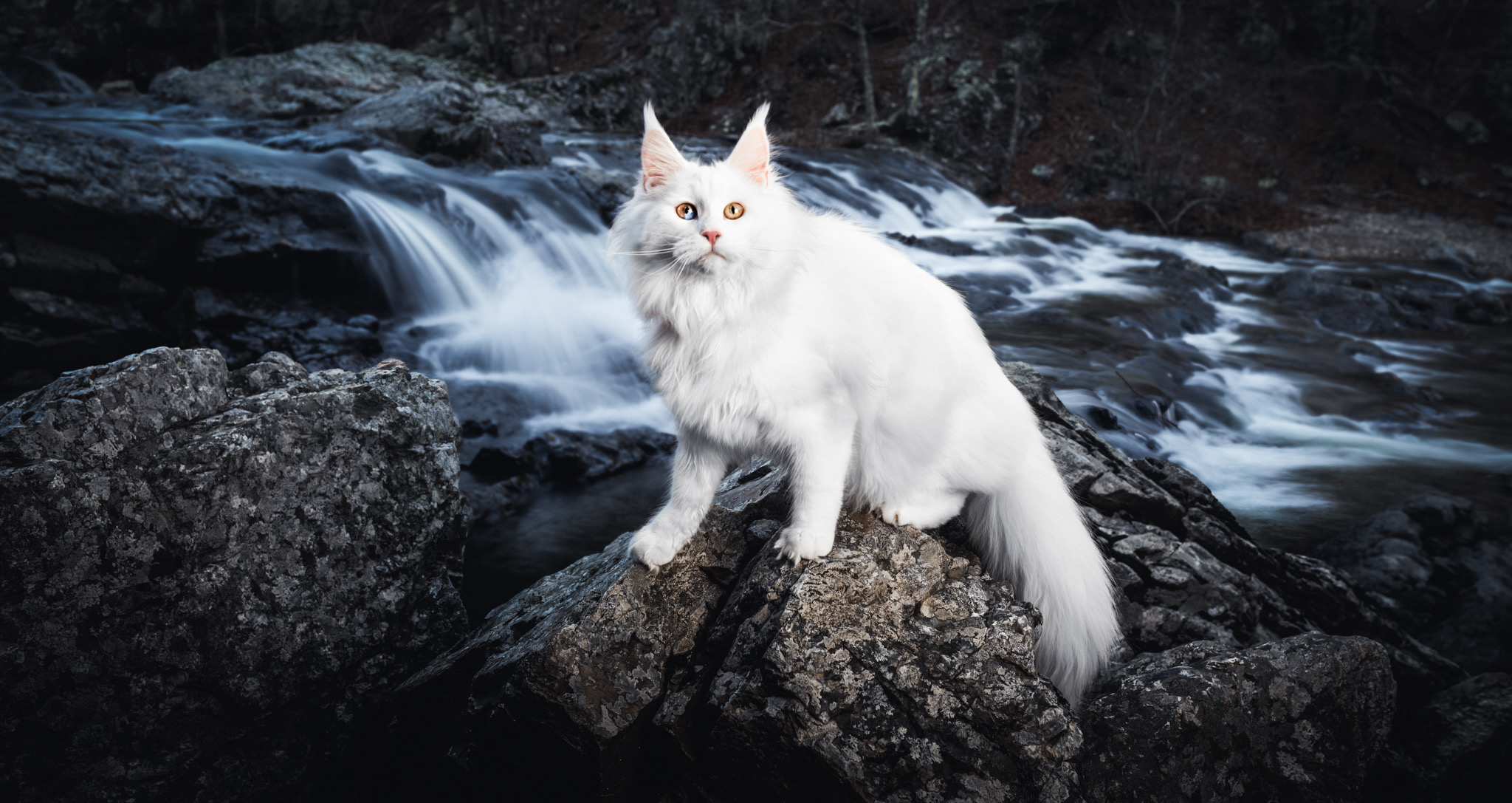 HOW DID IT BEGIN?
Gentle Giants of the Wild started as an experimental concept. Through all our years of breeding Maine Coons both in Europe and the USA as MetatatronEyes Maine Coon Cattery, we always tried to present them as the unique cats they are; but we never were completely satisfied with the typical style of photos that seemed so ubiquitous for the breed.
As international fine art photographers, we realized we could incorporate our photography knowledge and skill - just the same that we use on our serious photography projects - and apply them with our cats. The result was simply breathtaking and captivating, and even we could't believe at first that it was possible; to our knowledge and through our research we have never ever encountered such photos of them taken with either our method or level of equipment. In a world where photography has become such a pervasive and competitive field, to create an entirely new idea or project is something extremely unique and special.
Our very first photo of this series was "Quad White", and since then the project both naturally and deliberately bloomed as we became more and more inspired.
GGOTW is a direct extension of our primary career as photojournalists and fine art photographers; you may find out more about us in this regard here: www.leeandchristina.com
As you can imagine, it is very special for us to finally incorporate both of these incredibly important aspects of our lives into one cohesive endeavor!
WHAT IS THE GOAL OF GGOTW ?
Our ultimate purpose is to create extremely high quality and artistic images on an exhibition level, that beautifully present a Maine Coon's heritage - all based on various folk tales about their origin.
There are so many stories that leave us guessing; and for the sake of art and imagination, we hope to create our own little stories through our photographs. We hope for people viewing our work to imagine their own stories and fantasies in their head; to inspire reflection and not just admire a good looking cat. As photojournalists at heart, we cannot express enough how important it is for a picture to tell a story. In addition to that, we have found a beautiful way yet again - both through art and the kindness of your support - to donate to organizations that desperately need our help.
WHY DID WE CHOOSE TO DONATE?
We live in a world where things are not easy and problems are not simple, but we feel that if we all work together as a team we can make a small difference. We have nothing to lose by trying or by giving. There are so many organizations out there that need help, and as a single person it is difficult to collect enough money to donate effectively. This is how the Fine Art Prints idea was born, aside from a very dear friend to us that really believed in it and pushed us to do it.
No matter which project we have done in the past, or will do in the future - we have and will always donate to a closely related foundation or organization that is both legitimate and ethical. You can read more about the organization(s) we choose to donate to via the button below:
To view our selection of Limited Edition Fine Art prints for sale, click here:
HOW ARE THE LIMITED EDITION FINE ART PRINTS MADE?
Every stage of production of these prints - each step from concept and creation, to editing and final printing - is executed with the greatest care and skill to achieve the highest quality possible.
We offer each and every single print in a wide range of sizes to suit your needs: 16x24, 24x36, 30x45, 40x60, all the way to 60x90 inches.
WHERE ARE THEY PRINTED?
All prints in this series are produced by hand at
Candela Fine Art in Oakland, California.
They are one of the best fine art digital printers in all of North America, and a Hahnemühle Certified Studio since 2013.
It's critically important for an artist to work closely and directly with a master printmaker to ensure their vision is fulfilled in the final product. To this end we are thrilled with the care, knowledge, and skill shown by the experts at Candela Fine Art.
ON WHAT PAPER?
We have chosen one of the highest quality and universally loved mediums for fine art prints: Photo Rag® Baryta by Hahnemühle.
At $600 per roll and made exclusively by Hahnemühle in Germany, Photo Rag Baryta 315 GSM is an OBA-free, 100% rag, natural-white paper with a barium sulfate finish that combines the virtues of a luxury cotton paper and a traditional baryta board, giving this rag base paper the high-gloss finish needed for color fidelity and enhanced luminosity, while its very fine surface texture with the baryta gloss endows portraits - especially that of the Maine Coon - with a particularly expressive character.
BY WHAT METHOD?
Archival Inkjet Printing, also known as Pigment or Giclée Printing, is the preferred digital printing choice for artists due to its longevity and versatility.
Using Canon IPF9400 and IPF8400 large-format printers, 12 separate inks with multiple black and gray channels provide the most accurate color reproduction.
With archival ratings in the 60-100 year range, these prints set the standard by which all photographic printing is measured.
WHAT MAKES THEM LIMITED EDITION?
Limited Edition means that there will only ever be a predetermined number of prints produced of each photograph. Once the edition sells out, there will never be another reprint of that photograph at that size. Having the editions limited allows us as the artists to personally review, approve, and authenticate every single print before releasing them to the owner. After inspecting that the print is perfectly rendered, we will finalize a Certificate of Authenticity and sign / number / date the print itself. This extra step in the process ensures only the highest quality of work endures to match our vision for the prints, and also greatly enhances both the potential appreciation in value and heirloom nature of the print itself.
HOW ARE THE PRINTS AUTHENTICATED?
We use Hahnemühle Certificates of Authenticity, which were designed to protect the security and genuineness of your fine art prints on Hahnemühle paper and to reduce the risk of forgery.
Each certificate is made of premium deckle edged mould made paper with a Hahnemühle watermark and fluorescent security fibres. A serialized numbered hologram is added to the certificate and a second, identically numbered hologram is applied to the reverse side of the fine art print. The combination of certificate and hologram assures that each Certificate of Authenticity relates only to one particular piece of art.
HOW SHOULD THE PRINTS BE PRESENTED?
For the best results - and to do justice to the print delivered to you on Hahnemühle Photo Rag® Baryta - it must be mounted only by experienced professionals.
We recommend mounting on a completely smooth, high quality, acid-free, and dimensionally stable substrate.
The choice between a traditional frame, frame and mat, float mount behind acrylic, and any other option is entirely up to you and what you prefer within your viewing space.
Please know that if your print is damaged from improper handling or during the mounting process, Gentle Giants of the Wild is not liable any damage or replacement costs.
Just be sure to use a reputable and fully insured frame shop to mount or frame your print, and we will be happy to work with them to provide a replacement in case of any damages.
HOW LONG WILL IT TAKE TO RECEIVE MY PRINT?
For the entire process detailed above, please allow approximately two to three weeks to receive your print within the USA.
2019 CALENDAR
We originally intended to have only our Fine Art prints available, but so many of GGOTW's fans requested that a calendar be published...so here it is!
In contrast with the Fine Art nature of our prints, we are pleased to offer a far more accessible option with our official calendar at less than $20:
Leica S (Typ 007) - Medium Format Digital System
Widely regarded as the most coveted photographic brand in the world, we chose the very top camera that Leica produces based on two factors: unparalleled image quality, and an optical aesthetic no other lenses can reproduce.
Every lens in the system is entirely devoid of imaging errors, even at maximum aperture where most lenses fail. This covers the enormous 30x45mm medium format sensor, which itself has 6 µm pixel pitch and unique micro-lens architecture not found in any other camera body. All this leads to a truly unsurpassed system that we couldn't be more proud to use.
We truly respect a company that focused on the actual usability of a fully weather sealed and portable medium format system, produced with such exacting standards for the highest image quality. This allows us to not be limited in within a mere studio setting, but instead encourages previously impractical or even impossible quality to be brought back from the deepest jungles of the world.
Profoto B1 500W Monolights - Portable Studio Lighting System
We are not traditional studio photographers, in that we prefer our work to be within a real life environment. The locales involved in photojournalism are also inherently diverse. That being said, there are enormous creative opportunities that would be missed if one didn't have their own quality sources of light available at their beck and call - and that includes presenting the Maine Coon in nature.
This Profoto ecosystem offers an excellent balance of quality, control, power, and portability to suit these demanding requirements. We can wirelessly control all factors independently for each separate light, directly from the camera's position. Powerful lithium ion batteries allow an incredibly long working time and reliable operation, with no dependance on electricity until it's time to recharge at night.
True (not HSS) flash synchronization up to 1/1000 second via our Leica system's CS lenses also allow us to use their beautifully perfect f/2.5 aperture, even in bright daylight at blinding speeds.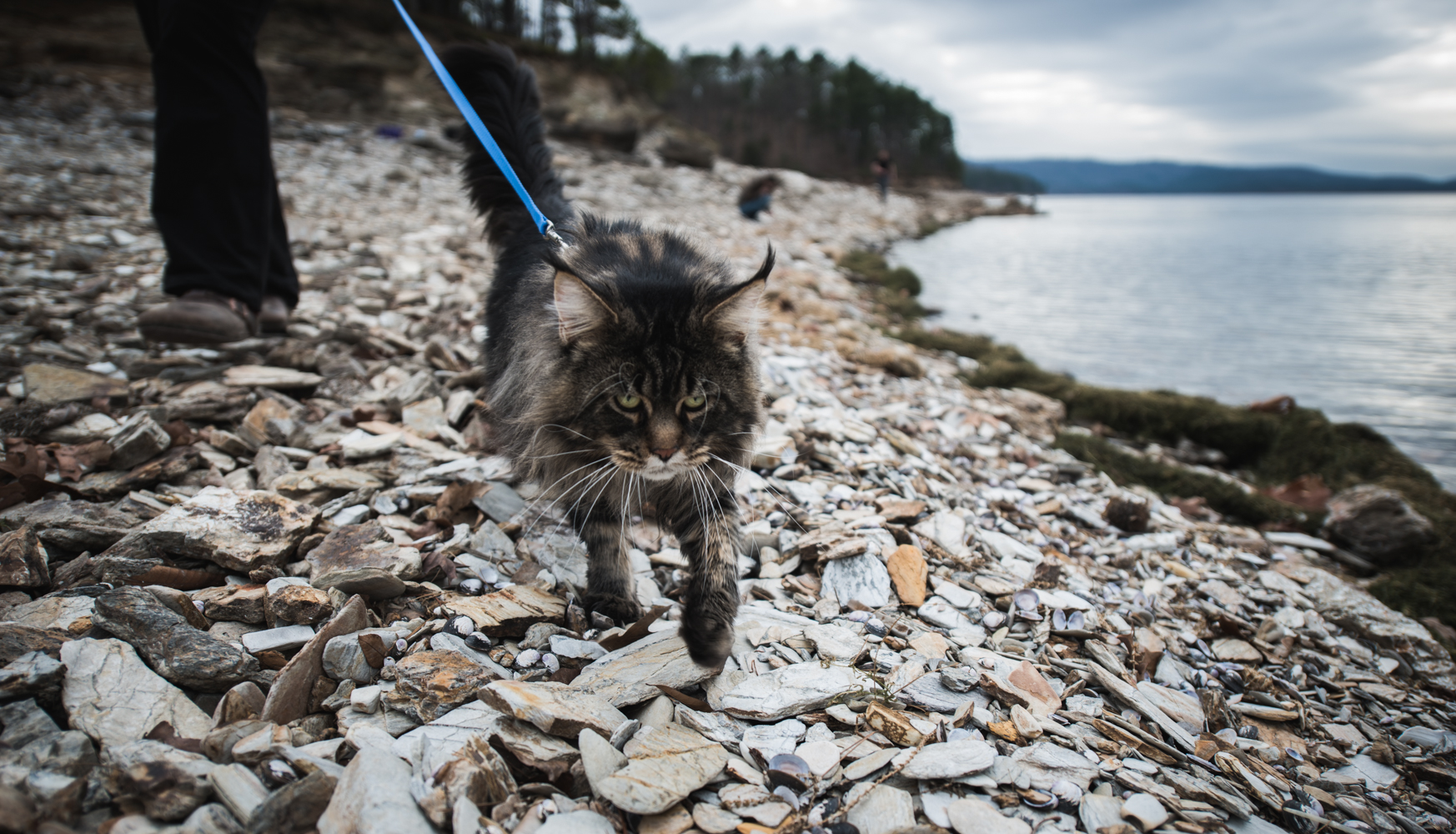 ARE THE MAINE COONS FORCED TO POSE?
It is absolutely natural to worry and wonder if the cats in the pictures are being forced to be right next to the waterfall, shore, or cliff's edge. We totally understand, because we would wonder the same. Please rest assured that we take our time with our cats (that already know adventures as well) for them to be 100% comfortable and curious about their environment.
Therefor, just for the sake of reassurance that there is no sign of animal abuse, we always take behind the scenes photos - and more importantly, videos - that document the whole photography session. A cat that would feel stressed or displeasure, would not a) stand still or b) look that confident with tail up, straight ears and relaxed or excited eyes.
WHERE CAN WE FIND THE PHOTOS AND VIDEOS?
You can read our blog posts of our behind the scenes on our cattery website : www.metatroneyes.com/blog .
You can find all the photos and videos, as well as the story behind every picture there.
Of course on our Instagram too, where we will be documenting the behind the scenes through our Instagram Stories.
DO YOU OWN THE MAINE COONS?
Yes. 99% of the Maine Coons in these photographs are ours; either bred by us originally or brought in as a part of our breeding program.
However, we are expanding our project and welcome the participation of Maine Coon owners or breeders within the United States of America and Europe!
Read more and apply here, if you're interested: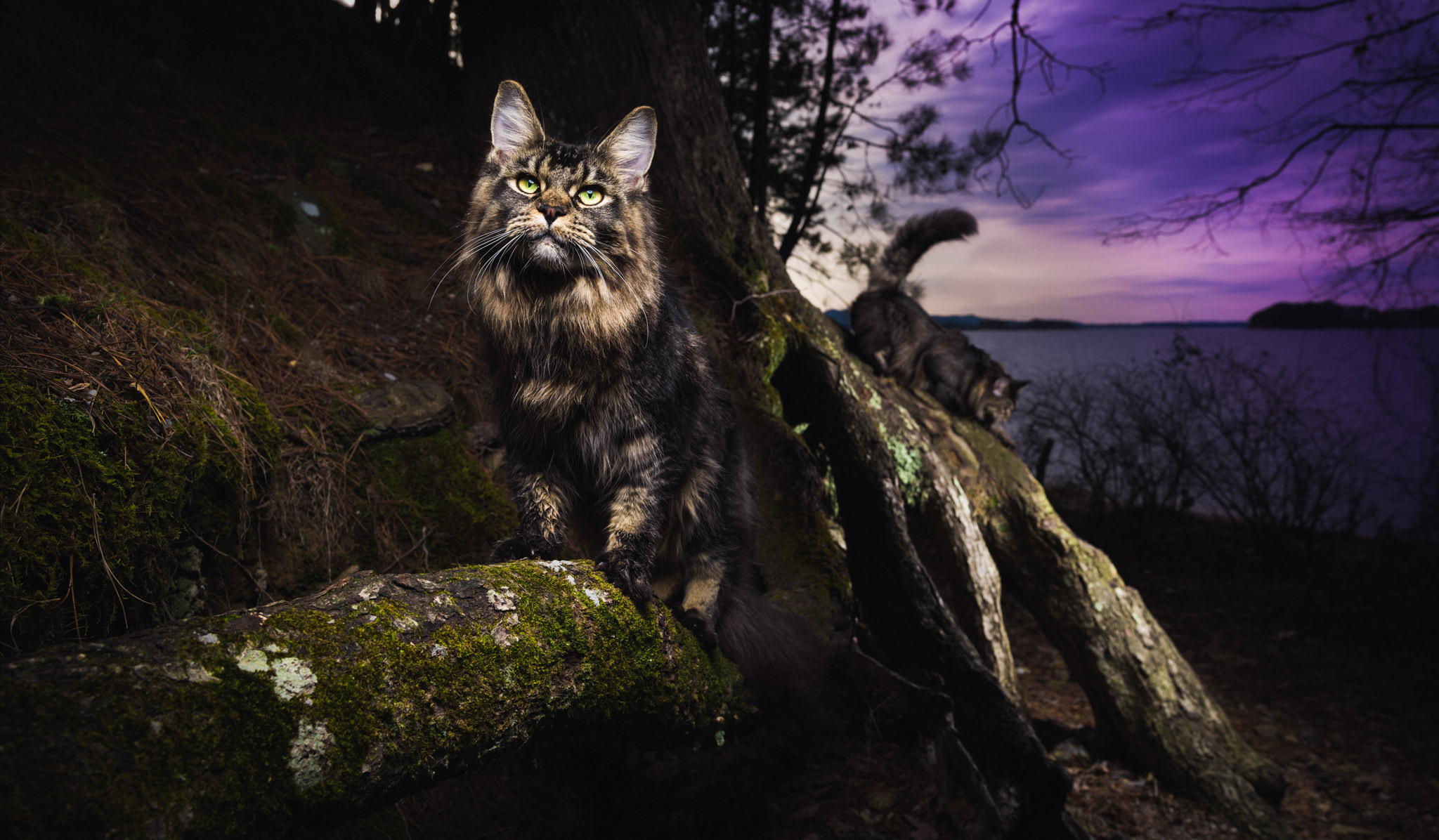 Feel free to contact us if you're interested in exhibiting our GGOTW project in your Gallery.
Feel free to contact us if you're interested in licensing GGOTW media for any purpose.
Feel free to contact us if you have any questions regarding / trouble ordering your prints.
Feel free to contact us if you are interested in participating in GGOTW.